Want to Learn To Optimize and Repurpose Your Old Content?
What's in your dusty old vault? Optimize and Repurpose Your Old Content
Podcasts?
ebooks?
Books?
Blogs?
Courses?
Videos?
Speaking engagement notes?
What else?
What do you plan to do with your priceless content?
Would you like to learn how to repurpose your wisdom-filled products and have them be seen on a wider scale while providing opportunities for additional income?
I'm offering consultation to help those who want to know what's possible when it comes to repurposing their old content. I have been helping clients for years and would love to help you.
What does this consultation look like?
60-90 minutes (depending on which package you choose and how in-depth you'd like to go)
It could be a single conversation that provides you with enough to set you on your way
You may even want to hang around with me for a while if you think we make good co-creators. Either way is perfect. It's important that you benefit from this first consultation
I provide a lot of information and ideas specific to your business and content and your comfort zone for leveraging your content
After our call, if you'd like to continue with me, I can work hands-on with much of my suggestions but not all.
Guarantee: If you are not completely satisfied with the value I provide on our first call, I will return your money.
I'm not here to waste your time or mine. In the event you are not satisfied, I don't want to keep your money
This includes a refund if you are not  interested in my suggestions after discussing your content
This includes a refund due to your not finding value or possibility for you
This includes a refund if I don't get you excited about what's possible for you
This DOES NOT INCLUDE – your requesting a refund because you are not ready to implement my suggestions. That would not be fair for what I provide
I will be offering suggestions for every budget including NO BUDGET 
My prices –
Compare my additional package prices here
You can pay now and receive my calendar where you can schedule your call with me. 
So, If you've been stockpiling a gold mine, then it may be time to cash in on some of that. Whether it's me you choose or someone else, the important thing is that you can do so much with your content and now could be the time.
I look forward to hearing from you
Enthusiastically,
Fran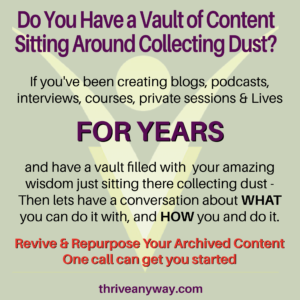 THE STORY BEHIND THE REASON: Several years ago I was working with 3 women at the same time who I thought were the most amazing women and consistent content creators They could put out a book or a course like no one else could. But it disturbed me that they were always creating new content while the last work of art sat on a shelf. I could see their previous works being proudly displayed behind them for all to see. The books are on stands, the old podcasts have a link to them and the ebooks were stacked in a pile -some published and earning pennies per month and others, never quite made it to the public eye.
Now here I am with very little content of my own compared to them, but I work like crazy to create a wide audience with my content so that I can earn additional income in the background and keep my wisdom alive.
Does this sound like you? Do you have a vault of content that's just collecting dust?
I literally had no intention of offering this opportunity to anyone. I'm actually weaning myself from a lot of my one-on-one calls – working closely with and spoiling only a handful of serious visionaries who need my help. No, I'm not retiring. (I can't imagine myself ever doing that.) But I do plan to work smarter as I get older so that my content continues to provide a revenue source.
So, I've reopened the doors of private consulting for a few amazing content creators who could use a conversation about what if anything they can do with their STUFF! If that's you… I'm ready when you are!
Again, here's how to start
My prices –
Compare my additional package prices here
You can pay now and receive my calendar where you can schedule your call with me.