If this is not for you, please pass along to a friend who would benefit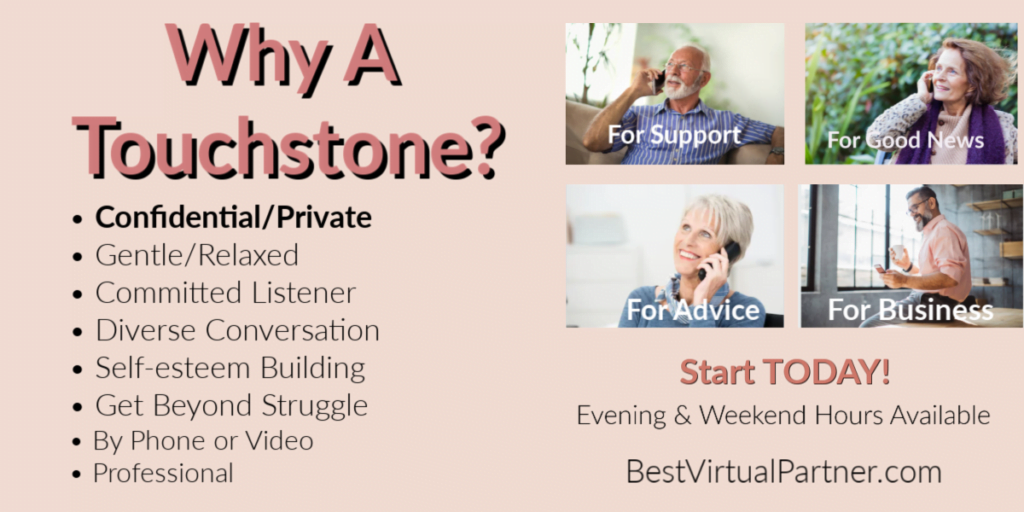 I became a Touchstone because in my eyes it's much gentler than a 'coach'. It's a perfect fit for me, as someone who loves to help others grow at their own pace and without a cookie-cutter plan for them. I myself have had many coaches in my life who were fantastic.
BUT, when I eventually hired a Touchstone for myself, (this is what I call her), my life completely changed. I don't choose to share my very personal life with family or friends. One, because I don't want to burden them and two, because chances are they cannot support me the way I want to be supported. I now have someone I can talk to who is a combination of Support, Sounding Board and a Friend.
After our time together I feel completely uplifted and my quality of life improves. Mainly because I now had a landing for everything that's going on inside me. I knew I didn't need a Coach or a Therapist. I JUST needed a Touchstone. 
At some point, I felt I was coached enough and then realized that others may feel the same way. They just want a professional who feels more like a friend than a coach or Therapist.
Does that sound like you? If so, read below for:
10 Reasons People Choose to Have A Touchstone
They want a confidante to share things with – someone who isn't family or a friend
They give so much to others and feel depleted
They want a committed listener just for themselves where they get to be heard and supported fully
They look for a confidential call about something sensitive, private or delicate to discuss
They want support and clarity with business, relationships, personal or spiritual growth
They want to share the good, the difficult and the crazy stuff with
They want professional yet friendly, loving and gentle support
They want to rebuild their life, self-esteem, motivation and look for encouragement
They want to get beyond being stuck or going through a struggle or challenging time
They prefer a virtual call over an in-person session for convenience and anonymity
A Touchstone is NOT for everyone. Ever since I started my Touchstone program, it's amazing how many people have jumped at the opportunity to have one. They immediately read about my service and recognized that it was in fact what they had been looking for.
But, not everyone wants or needs a Touchstone. If after reading 10 Reasons, you are not sure, then contact me to discuss whether this is right for you.
Interested in pricing and which package is right for you?
Choose when we speak, Connect from anywhere by phone or video. (Some evening and weekend hours available)
You can have your very own Touchstone Today! 
Here's to your joy!
Enthusiastically,
Fran