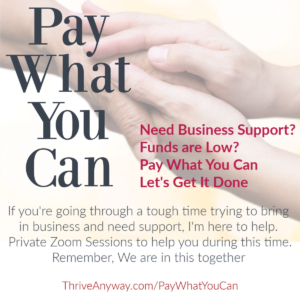 Times are tough and even though you need help, you may not be able to afford it. I know. I've been there. I'd like to help.
Whether it's due to Covid-19 or just life occurring for you, you know with a little break you can move forward. Consider accepting my support.
I offer a PAY WHAT YOU CAN package here.  (Select the 2 session package)
What you should know:
Once you select PAY WHAT YOU CAN, the option to schedule your appointment will be presented
I have a limited amount of PAY WHAT YOU CAN hours available, therefore, there may be a short wait to schedule
PAY WHAT YOU CAN is limited to two 60-minute sessions via Zoom and must be used within a 30 day period
Renewable options are offered in some cases
What can you use 'PAY WHAT YOU CAN' for?
Personal, Business, Relationship, Spiritual support
Most services offered here on the Thrive Anyway website
Ask, if you don't see what you want, contact me. 
We are in this together and we will Thrive