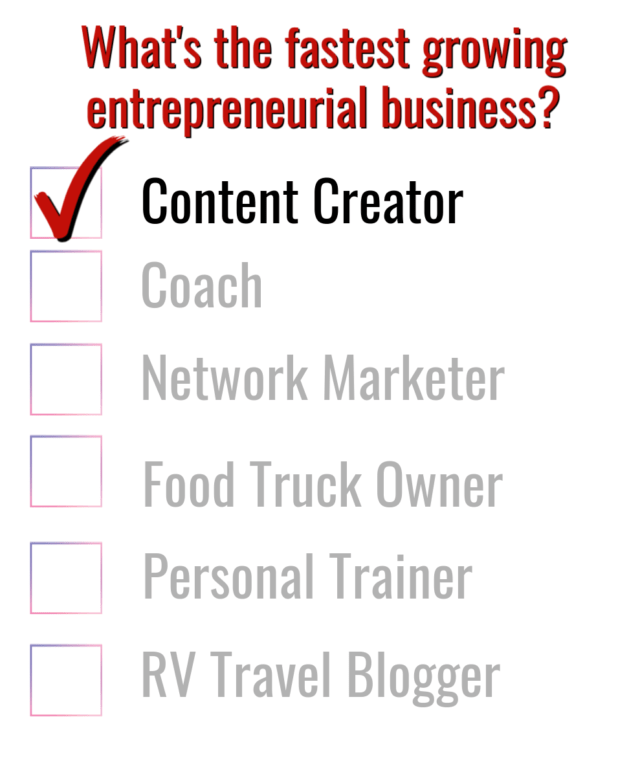 Content Creator is in fact the fastest growing entrepreneurial business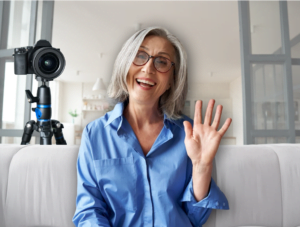 Yes, The fastest growing entrepreneurial business is being a CONTENT CREATOR!
Does that surprise you?
Think about it. If you are IN business, No matter what you do these days as an entrepreneur, you'll need to market your business. The problem is, that most of the older ways of marketing are falling by the wayside compared to the results gotten by those who create content and connection instead of just SELLING their products or services.
Some of those results stem from:
Educating your audience
Telling your story to engage your audience
Entertaining your audience
You can combine all three for even more of a punch. It's called 'infotainment'
Not in a business?
Existing entrepreneurs become content creators FOR their business while others become content creators AS their business. What does that mean? Well, some of us don't technically have our own businesses. But we'd like to. It's become a HUGE trend to earn a living as a content creator for social media platforms. It's not only lucrative, it's fun and filled with self-expression and individuality!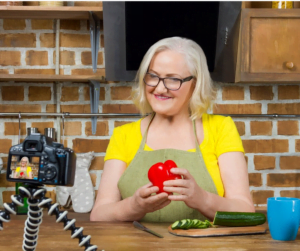 Imagine taking one of the things you love to do best, like going to the movies. Now, what if you were to create a YouTube channel where you can review the movies you've seen and people actually come to your channel to see what you thought about it? When they come to your channel, you can earn money in several ways once you get started.
You can earn by selling your own products and services if you have them
You can earn money by selling merchandise with your own creations (you may need a subscriber minimum but there are ways around it)
You can earn money by allowing YouTube to run ads on your videos. They run them anyway, so why shouldn't you get paid too, right? (subscriber minimum and watch hours must be met)
You can earn money by getting sponsors who pay you to promote them
You can earn money by becoming an affiliate marketer and selling other people's products or services
There are many platforms to earn money as a content creator.
I personally love YouTube as the foundation for my creations. After all, they are the 2nd largest search engine in the world. Second, only to Google who owns YouTube!
Once I begin posting on YouTube, I now have content that I can repurpose for my emails, blogs, and other social media platforms. But since YouTube is a solid global search engine, I like to start there because not all social platforms are stable.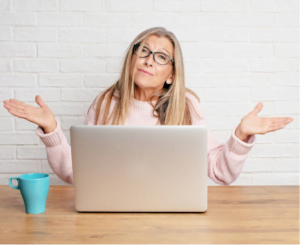 Here's the thing. If you're still reading this, chances are that you are either interested in becoming a content creator FOR or AS your business. And if that thought excites you, and you don't know what to do next, don't worry. That's why I am here. 
There are many ways to learn to become a YouTube Creator. I took this amazing academy that really helped me with the details of how to create videos. I strongly recommend it to anyone who wants to be supported while learning. 
Now What?
If you're looking for more of a one-on-one approach to getting started as a creator then maybe we should chat. I'm here to help as a co-creator, strategic consultant, and mentor. Someone who is there to help you breathe life into your idea, show you the ropes and get you started and optimized. If you think that you prefer a partner to help you, then let's have a conversation about it. Let's see if we are a fit and go from there. Just contact me here. 
If you prefer to learn more before contacting me, here are a few places to start. 
Senior Tuber Alliance YouTube Channel
SeniorTuber Community on Facebook