This Community was created to offer support, training, encouragement, and resources for mature women who want to start or grow a YouTube Channel. 
Whether you are ready to begin, scared to pieces, or something in between, you are welcome.

Whether you are a tech-savvy or 'what the heck is tech' type of person, you are welcome

Whether you consider yourself MATURE or just see this as a place you'd fit in, you are welcome – we won't check your I.D. 
Hello & Welcome Talented Friend! 
My name is Fran Asaro and I'm the Founder of The Senior Tuber Community. 
Our Mission:
Inspire Mature Women to leave their legacy on YouTube

•

.
Provide community, education, and resources at a comfortable pace

•

Eradicate stigmas, fears, and false beliefs about being an older creator

•

Shine a light on the truest wisdom of the world – the value of experience, time, and willingness to share 

•

Promote Senior Tubers through interviews and showcases
#SeniorTuber – Spread the hashtag for all senior creators to be found and identified as a senior creator
Connect with me to get your questions answered. Contact me here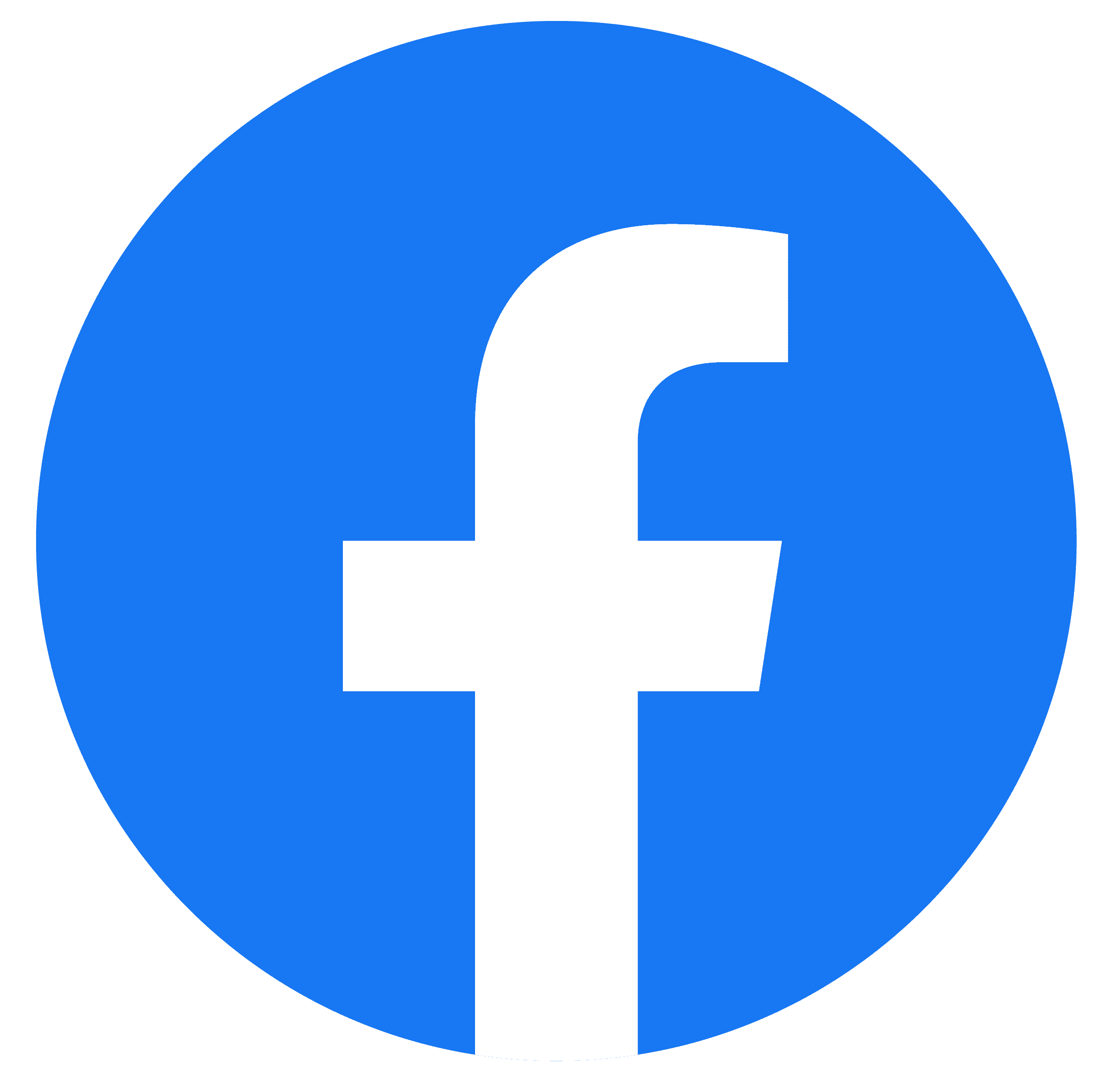 Join our Senior Tuber Facebook Community
Want to be notified about our weekly training classes?

Maybe you want a copy of our self-paced digital course called

YOUTUBE FOR SENIOR – How to OPTIMIZE, SYSTEMATIZE, MAXIMIZE

If so,

Join Our Senior Tuber Community Mailing list

and get notified of upcoming events
Uh Oh, Don't like being called a senior?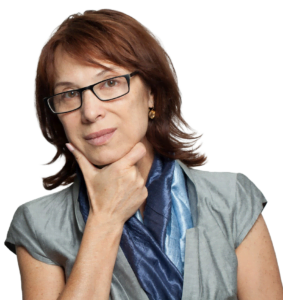 Before we begin getting acquainted, I understand that some of you brilliant and vibrant women do not appreciate being called seniors. For that, I apologize. I don't mean to offend you or imply that you are old. I personally love being a senior, but then again, I'm kind of 'different'. Somehow I just knew when I turned 60, that it was going to be the greatest decade of my life!
I ask that you bear with me on the term senior because as someone who is trying to reach ALL WOMEN OVER 60 to teach them how to start a YouTube Channel, the most common term is senior. You see, I want to reach as many of you as I possibly can to ignite a movement. Whether you are a beginner or a seasoned content creator, I'm trying to create a community for support and unity and identifiability. 
---
There is nothing for you to do here – and yet, there is everything for you to do here
Consider this a landing for your curiosity. If you've been drawn to finding out more about becoming a creator, that's awesome. My hope is that you are inspired to take action! With or without me. You see, I am not here to do anything for you unless you want me to. As I mentioned, I am here to create a community because there are many people our age with so much wisdom to share and I want to let us all out of the closet. 
Imagine if you had your very own YouTube Channel where:
Your family, children, and grandchildren, friends had access to you, your philosophies, talents, personality, and teachings forever! Where they can tap into seeing you whenever they want and feel the comfort of 'being' with you? Maybe you'd show them how to prepare a certain dish or crochet. How many times throughout the years have you found yourself saying, 'I wish I knew mom's stuffing recipe' or wish you remembered the joke dad used to tell? Well, this is a generation where we CAN in fact do this.
What would you give to have a library of videos of your parents, grandparents, and great-grandparents? Watching them grow up, learning from them, and knowing everything about them? That would be priceless, don't you think? Even if you already have videos of everything you think you need, does everyone have a copy? Wouldn't it be nice if you could share a link or a playlist and anyone you want could access it?
Also, imagine:
Other people our age who enjoy YouTube but would prefer to watch their own generation's videos. They'd want to be a part of a community where creators speak their language, share familiar treasures and memories, teach and entertain us and keep us company when we need it.
And imagine taking all the wisdom from your own full and seasoned life and documenting it, immortalizing yourself, and sitting back to behold all that you are and feel proud of it all and grateful to share it. What a gift for you. What a gift for us. Because whether you think so or not, you have so much inside you that people really need to see or hear. If you've ever heard that we all come into this world with a gift, then you must know you were not left out. YOU REALLY WEREN'T. There are people who need to hear your wisdom solely from your perspective and no one else is able to. Maybe you went through something or survived something and they need to gain strength from your experience. Maybe you are from a country with a history and traditions that someone really needs to learn. Maybe you've written poetry that's been hidden away in a book that no one has ever read but would cherish. Maybe you silently wish you could or would do something really valuable and purposeful but you don't know what it is. YET. 
This mission of mine is fairly new, however, people are inspired to come forth and begin sharing their unique messages and reasons for becoming a creator. Are you one of them?
As this all begins to take form, I am inviting you to do a few things:
Come on the ride with me. Stay connected in any way you feel comfortable. You can join our community newsletter for updates here
If you are stimulated, stay stimulated and together we can find your way
Tell others who need to know about this, by sharing this page – because they should know
Become a SeniorTuber by joining our Facebook Community and leave your mark on YouTube
Together we can become a force to be reckoned with.
Let the news talk about us as an up-and-coming trend SENIOR TUBERS – Leaving their Legacy on YouTube! 
How to start a YouTube Channel for Mature Women Over 60 – Become a Senior Tuber – For Beginners and Seasoned creators, Leave your Legacy on YOUTUBE!
---
So, why are you here?
Chances are that you are here because the idea of becoming a content creator on YouTube intrigues you. It may even scare the daylights out of you. But still, you want to know more, am I right?
Believe me, I didn't WANT to be in front of a camera but I felt a need to give something away. Something that would be an expression of who I am and maybe teach or entertain someone somewhere. I actually made a promise that I would do this about 11 years ago. But, that's a story for another time.
---
These are some of my reasons for leaving my legacy on YouTube
As someone without kids to leave my wisdom to,  I get to share myself on YouTube where others will have access to who I am and possibly benefit from it
Blessed with purposeful gifts  – I want to give back to the world. I think my 'franisms' as people call them would help shorten the path of others if they only had a way to find them
I have been helping women become entrepreneurs, tapping into their self-expression and self-esteem for many years. As I get older, I want YouTube to be the platform from which I contribute
---
Really cool and important things you'll want to know
FANTASTIC NEWS! You don't have to be on camera to be a content creator – did I hear someone say PHEW! WHAT A RELIEF!
If you prefer staying private – you don't have to share videos with the world to leave your legacy. You can actually share with a select few or even stay completely private. (Yes, I'll show you how) 

You don't have to be over 60 to benefit from most of what I have to offer – I had to choose a niche for my channel to thrive, (I will share about niches with you too)
Additionally – 
I'm here to help those looking for gentler-paced learning and not the firehose approach where you get bombarded with data until your brain bursts. As for me, I kind of like learning like that. So, if you want, leave the fast-paced learning to me, and I'll relay it in drip format back to you. Would that be ok? And, if by chance my pace is still off from yours, no worries. I'm available to help you. 
Now, if you would prefer to learn at the same firehose pace I do, fantastic. Let me share my resource with you. Jump over to my favorite Video Academy

right here

and get started. This very academy is what catapulted me years ahead in my learning.
My plan is to offer as much as I can to help you come up with, design, and optimize your YouTube Channel.  All you have to do is subscribe to my channel (don't forget to click the bell to be notified when I upload a new video) and sign up for my newsletter for additional support and tips.
How to start a YouTube Channel for Women Over 60 – Become a Senior Tuber – For Beginners and Seasoned creators, Leave your Legacy on YOUTUBE!
---
I changed everything to be with you and support you – and I'm beyond excited about it
As a fellow senior, life-long entrepreneur, and business coach, I recently redirected my entire focus to helping other seniors leave their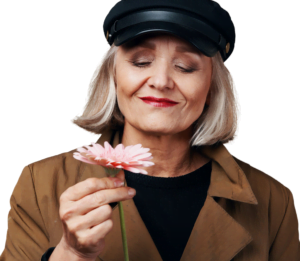 legacy on YouTube and possibly supplement their income while doing so. I put together my 2 passions of being a content creator and helping women find their self-expression. This means so much to me to create a community that supports women having fun and stepping out to share with the world. How much better can it get?
You most likely are in one of these places – which one?
You are aware that you have a gift or a passion but you don't know where to begin
You've been a creator (professional or just for fun), and now want to repurpose and optimize your archived treasures for the world to see 
You have no clue what you'd like to do or what you are good at but would love to find out 
There's a slight chance that you aren't cut out to be a YouTube Creator. But how would you know? Well, I created this short quiz just in case it helps gain clarity. Take the 2-minute quiz to find out.
(it's anonymous)
---
How I am able to do what I do – 
You may wonder how I can offer some of what I do for Free. First thing is that I love being able to share my gifts. I always have. Second, I do get compensated in a few ways and so can you if you decide to become a Senior Tuber. You see, there are several ways to earn money as a YouTube Creator and I'll be teaching you how to do the same thing I do, plus more.
But to answer this question, here are a few ways I do financially benefit:
Occasionally, I earn affiliate income when you or someone else purchases a product that I recommend. The good news is that it doesn't cost you anything more.

There is a 'THANKS' link on my videos and YouTube Live events where people can actually tip me if they like my content or the discussion I provided.

Once I reached YouTubes criteria, I became a YouTube Partner. Now I receive a commission on the ads they run on my videos. The ads were always running, except now, I get a little bit for allowing them to be there. Cool, huh?
How others support me –
I have a donate page for anyone who wants to contribute to the cost of my creating this community and providing the support I do.
Other important ways to support me or any other content creator is to:

Watch videos all the way through (watching in full really helps YouTube promote videos more) 
Comment – Let me know what you think, ask your questions and share about other SeniorTubers who are doing great things (maybe I can showcase them on my channel) 
Like my videos – Once again, when YouTube thinks my videos are worth 'liking' they promote them more and I get to help others more (it's a wonderful cycle)
Subscribe – When you subscribe you'll get notified when I upload a new video or have a live event
Share the link to my videos if you know someone who'll enjoy it or may even want to become a Senior Tuber.

Look for more ways to monetize your channel in my videos. 

Too excited and want to get started with your channel NOW? Or maybe you just prefer a personal experience, I offer one-on-one support. View my Contact Fran page here or  Learn more about my pricing here

What does it look like to work with me privately?

Together we work on your channel via Zoom on a schedule that works for you
Together we begin from where you are, whether you need to start from the very beginning and find your ideal niche as a creator or you want to go through and repurpose your archived content.
Together we co-create your channel: including name, set-up, channel art, tags, links, about me pages, and branding
You'll learn tips to create videos and the many ways to upload them
Together we optimize your channel and you'll learn how to do this yourself, so you will eventually be independent or hire an assistant
You'll also learn how to share your videos on other social platforms, blogs, emails, and create playlists.
You'll learn the many ways to earn money being a creator (you can start earning right away)
I will be right there with you to help you through every hurdle, challenge, and fear that you may bump up against and I'll also be there to celebrate every milestone you reach. It will be my pleasure to help you become the best creator you can be!
---
In closing –
So, new friend, I'd love to know where this page left you. Inspired? Overwhelmed? Stimulated? Scared? Any and all of those feelings are valid. I'm here if you want to talk about it. Just contact me. I'll respond, I promise
I have a few assignments for you. Interested?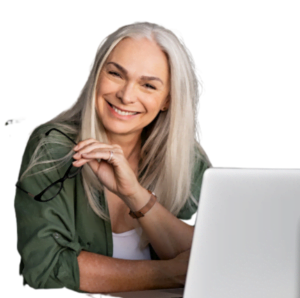 Keep a list of all the things you 'know' how to do or love to do
Explore videos from older creators to watch how great they are (I'll be posting them ongoingly)
Take some videos of you every day doing what you love to do or plan to do. Make them 3-5 minutes long. No one has to know. Delete them afterward if you want. This is just an exercise to get you used to seeing yourself on camera. You'd be amazed by how many people began to love it after thinking they would hate doing it! Please try… 
Watch these 2 videos to get started.  8 Ideas to Get You Started and 6 Must Do First Steps Before Becoming a Senior Tuber
Join our Facebook Group to stay with a community – It's much easier to keep going when you're with like-minded people.
It's important to me to know how you are doing. Stay in touch and I will keep posting videos for you! And for goodness sake, do your best to stay passionate! Your entire life is in front of you – let's have some fun!
Enthusiastically,
Fran
Do You Have What It Takes to Be A YouTube Creator? – Take the quiz 
---
MISSION:
To help mature women tap into their wisdom, power & self-expression
VISION:
To create an identifiable global community of Senior Tubers who can be easily found and supported by creating a space for enjoyable learning and camaraderie. Also by uniting us all by adding #SeniorTuber to our channels or videos for identifiability. 
VALUES:
Fun, Empowerment, Self Expression, Self-confidence, Prosperity, Freedom, Connection, Sense of Purpose and Community
---

Jump on a weekly YouTube Live with me and let's do a Q&A or a Training to help you start and grow your channel! There will be fun, breakout rooms, and multiple levels of learning. (if you want to be notified of upcoming Lives, subscribe to my channel and hit the bell or join my Senior Tuber community here.
Coming Soon

Watch videos where I showcase YouTube Creators over 60 as they make a difference (from age 60 to 106!) If you know of a SeniorTuber you'd like to see showcased, let me know here
Coming Soon


Look for upcoming interviews with YouTube Creators over 60 as they make a difference. If you know of a SeniorTuber you'd like to be interviewed, let me know here
How to start a YouTube Channel for Women Over 60 – Become a Senior Tuber – For Beginners and Seasoned creators, Leave your Legacy on YOUTUBE!
---
Recent Blog:
Take a look at my most recent videos to help you get started:
How to start a YouTube Channel for Women Over 60 – Become a Senior Tuber – For Beginners and Seasoned creators, Leave your Legacy on YOUTUBE!