CONSTANT CONTACT 


Imagine Your Website • Email Marketing  •  eCommerce  • Automation Series
All in one place!
Literally a Marketing System in a Box!
Where do you store your contact list and how do you reach them?

Not so Short story from Fran  – I notice many people say social media is the best way to stay in contact with their audience. Problem is, algorithms and the volatility of social platforms can really produce low results. A while back there was a threat to one social platform being shut down. The creators were frantically trying to corral their viewers by leading them to other social platforms. The SMART creators asked their people to send their email addresses so they could notify them wherever they were. Email marketing isn't a substitute for social media, it's a PARTNER to it. Consider that most sign-up forms and applications ask for your email address – NOT your social media link. Email is NOT by any means dead or else the largest companies would not spending loads of time and money to connect with you there.
Yes, many people ignore or delete email addresses, but most successful email marketers know that and are still thrilled they can put themselves in front of their customers and when they are ready to do business, they will have the ability to connect instantly.
If you already know this, and just want to learn about which CRM program is right for you, fantastic. Feel free to contact me to discuss your needs. I can even provide your comparison charts with other companies you may be considering.  If you'd still like to discuss how a CRM can truly grow your business while saving you loads of time and money… then REALLY, we should talk. There's no pressure, just support. Contact me here. 
Sign up for your Free Trial with Constant Contact
Top reasons entrepreneurs don't have a Marketing System:
They don't know how to build one

• 

It's too time-consuming

• 

They aren't clear on the content

• 

They think it's too costly

• 

They don't want to do it alone

• 
What if I told you that building an effective Marketing system:
Can be simple to build, use and maintain?
Has just a few basic components that make up your system?
Is easier than you think to provide content for?
Can cost you as little as $20 per month?
You can, but don't have to do it alone? (I can help you in real-time)

As your Certified Constant Contact Partner, I help you based on YOUR preferences
Get exclusive discounts with Constant Contact TODAY! (Contact me for current special) or Here's the link. you don't have to contact me until after your Free Trial is over, then I can provide your discount code. You can do this all yourself, however, if you'd like to bring me on board, I'd be happy to!
Together we can work via Zoom and build your efficient email system and website. (my rates are here) however I run unadvertised specials, so ask!
Just provide me the necessary information, and off I go to build your system FOR you! (same prices apply)
Have you been collecting business cards and email addresses for years and done nothing with them? No Worries, together we can sort them out and get them into a working system so that you can KNOW and feel GOOD that you are reaching your people and they won't forget about you.
---
An email address is one of the most valuable resources for a business
• Once you have a customer or prospect's email address, you are in the driver's seat when it comes to building your business. Sign up for your Free Trial with Constant Contact and start building your foundation
Sign up for your Free Trial with Constant Contact
Imagine
Being able to connect with every contact you have with the touch of a button
An automated contact system that delivers valuable information to every new contact so that no one misses out on all that you offer
Building marketing campaigns, social campaigns, and events all through ONE powerful portal
Sign up for your Free Trial with Constant Contact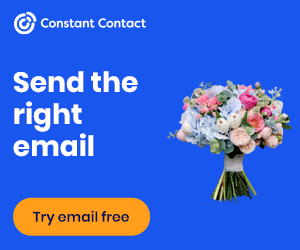 Whether you do it yourself or want my help
This link offers a 60 Day FREE TRIAL 
---
As a Certified Constant Contact Partner, I offer exclusive discounts and unadvertised specials 
Whether you are a brand new business or a seasoned entrepreneur, having an email marketing and lead capture system is crucial to the life of your business. With Constant Contact, we offer that and so much more!
I can help you build an email contact system that can run itself with little effort or you can hire an assistant to manage
Not just an email system, Constant Contact offers:
Website

Autoresponders

Opt-In Forms

Newsletters

Events

Surveys

Analytics

Campaigns

Social Media

& MORE (see FAQ's for full list) 
Learn more about how you can maximize your contacts, set up your website, and streamline your communication with clients, AWESOME!  Look efficient and attentive, with little effort.
I offer private virtual training and consulting. Contact me here 
Sign up for your Free Trial with Constant Contact
FAQ's About Constant Contact