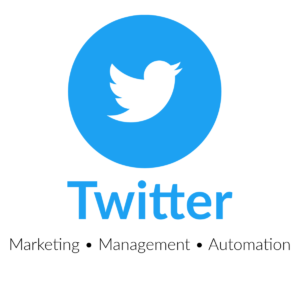 Scale your business on Twitter with Marketing and Automation. Thriving Social's all-in-one social media platform manages conversations with new clients while doing customer care for the existing ones.  With Thriving Social, everything is seamless. Twitter marketing has never been easier and you'll be up there among the best of the best.
Thriving Social is the perfect seed that will get you more organic growth
Twitter Marketing and Automation Task Options
Posts Scheduling
Plan all your tweets and publish them when your audience is online and receptive. With Thriving Social, you will save months of repetitive work by setting up your tweets in advance.
Twitter Mention
Find your target audience and use their Twitter handle in your messages. Create unique messages and connect with your prospects in a more powerful, personal way.
Auto-Follow
Automatically find people interested in your content and follow them to get their attention.
Your high-quality content and top targeting methods will assure you a good FollowBack ratio.
Auto UnFollow
Keep your following list to a manageable size by automatically unfollowing Twitter users that didn't follow you back.
Auto FollowBack
Make sure you keep in touch with your Twitter fans by automatically following them back. This is a strong Twitter marketing strategy.
Auto Retweet
Keep your account active and build strong business relations with potential clients, by finding and retweeting great tweets in your niche.
Automatic Hashtags
Increase the visibility of your tweets by automatically converting specific keywords into hashtags.
Automatic Favorites
Find great tweets in your niche and automatically like them to start new social interactions and kickstart your accounts' growth.
Pull Tweets from RSS
Always have fresh content by importing tweets from RSS feeds (don't forget to include your own blog's feeds).
Monitor Results
Analyze your results, see what's working best with your followers and keep improving your future campaigns.
Spin Syntax
Spin syntax feature is available to all the text fields to help you create unique messages.
Proxy Support
Run each Twitter account on its own HTTP proxy to avoid leaving an IP footprint.
Send direct messages to targeted users
Search for targeted Twitter users and automatically contact them to further spread your marketing message and increase your campaign's conversions.
Auto-Send canned replies
Set up predefined canned replies and automatically send them when your fans are contacting you. You can customize them depending on the situation.
Night Mode – stop all actions during certain hours
Have your accounts look more authentic with a few hours daily breaks from social media. Set up your Night Mode when your audience is not online.
Request your personalized quote today
Rates start as low as $50 per month