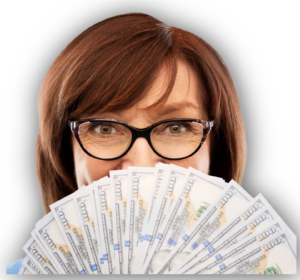 A LOT of people make a LOT of money as content creators and many of those people are doing it on YouTube. But how does a woman over 60 earn extra or full-time income as a YouTube Creator when she's never done it before? I strategically placed this blog before teaching you how to have a channel because I thought it would light a fire under you to get started.
Let me make sure I say that this is a very abbreviated version of Making Money on YouTube – due to a few reasons:
I don't want to overwhelm you (even though based on what I want to share, I may do it anyway)

This blog would be even longer if I went into more ways to earn money as a Senior Tuber

I want to give you both the most popular and some of the simplest ways along with the most lucrative
First, there are a few scenarios for us Senior Tubers as I like to call us for solidarity. Which one are you?
You may be interested in becoming a Senior Tuber but making money is not important at this time – take a look anyway. You may want to give it away to charity!

You may want to become a creator because you would like to have fun money to supplement your existing financial situation – this is very doable

You may REALLY need to earn money to survive and are wondering if you could live a comfortable life as a YouTube Creator – I'm not going to give it away, but keep reading

Lastly, you may already be earning money as an entrepreneur and now you want to see what YouTube can do to enhance that – and that's awesome!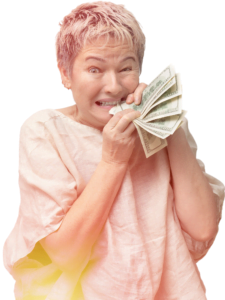 Many people think it takes a while to earn money as a content creator. While it does take time to build an audience that will support you, you can actually have money-making opportunities in place right away!
So then, how can YOU earn money as a Senior Women YouTube Creator?
Let's count the ways!
1. YouTube Partner Program – A YouTube Partner is someone who meets a series of criteria that enables them to monetize their videos. When you upload your videos you allow YouTube to post ads from other advertisers and when your viewers click on these ads, you earn money! Great huh? For some of you, it may take a while to get here but it doesn't have to. To learn more, visit the YouTube Partner Program
What you need to be considered for the YouTube Partner Program
You'll need 1000 subscribers or more. (once again, if you choose a great niche and optimize your channel, it could go quicker than most)

You'll need 4000 watch hours per year – I know, this sounds crazy, right? But sometimes you hit that sweet spot where your viewers really want to see everything you have, they watch, they share, they watch again, and bam, those watch hours start mounting up.

FYI – It takes a while to get to this status and it's something many people strive for when they become a creator, but here's a secret…. You don't need to become a YouTube Partner to earn a great living as a creator and you can start making money right away without it! Keep this as a goal, but not one that keeps you obsessed or feeling less than successful until you have it. OK?
2. Affiliate Marketing – This is one of the most popular ways creators earn money. They sell other people's products or recommend other companies as resources for an affiliate commission. (this is something I do often because many times it's a residual income that mounts up over time)

Here's how it works – Let's say you like a software program for instance. As for me, I love Constant Contact as my CRM program (customer relations manager) I've been using it for years. Then one day I decided to become an affiliate for them. Since I work primarily with women entrepreneurs, I thought I could really help them set up their email marketing and websites. I get a small commission for every active member, some even hire me to train them and it begins to mount up to my earning $1000s throughout the year. No one had to pay anything more to become a member either. (Sometimes you can even save people money if they go through you)
You might be saying, but Fran, I don't use anything like that and it doesn't work with the niche I want to start. I'm so glad you brought that up. Because almost anyone can find an affiliate they could work with. Here's a company that actually houses many companies looking for affiliates. You can search for the right company for you. It's called ShareASale. I've been using them for years – way back when Squatty Potty first became popular on Shark Tank. I immediately became an affiliate. I made a few bucks but I didn't know what I know now about affiliate marketing to earn a living. So, recently I went back to ShareASale and search companies using the word 'Vegan' (because I am one) and within a few minutes, I became an affiliate for about 10 companies. From companies that sell delivered-to-your-door meals to companies that sell vegan products all the way to vegan supplements and protein drinks.
When you find products that are in your niche, you're going to get so excited! And if you don't know where to begin, just join our Senior Tuber Community Facebook Group to stay connected and receive Free Training. OK?
3. Digital Products – I'm referring to Digital products as any product you create yourself but it could belong to someone else. So, let's say you love to do meditations  – you can create a digital version of your meditations and sell them right from your YouTube Channel. I'll show you how. I've created courses, series, affirmations, and some I give away for Free to grow my email list. I know people who create time-saving forms and templates for people to purchase at a very low cost. Maybe a budget sheet with all the formulas included or a particular flow chart. If you know how to create forms, you'd be surprised at how many people could use them. What would you like to create? Start making a list. Just make sure whatever it is, they are in alignment with your niche. You don't want to sell everything. Because then you'll be known for nothing!
4. Merchandise – This is one of my favorites. I had my own Shopify store for years. I mostly opened print-on-demand shops where I created my own graphics and put them on someone else's merchandise – from t-shirts to mugs to tote bags. When COVID hit I even started a full line of facemasks! If you like this kind of thing then consider this. People see you wearing or using a product with an image or a saying in one of your videos – they might fall in love with it and have to have it. All you have to do is have a link to it in your description and voila! You've earned some money!
There is a woman creator that has a YT Channel where she reads the bible and explains it to her audience. That in and of itself brought her a nice audience. But THEN, she decided to create journals for her followers to use during bible study and it took off so well that she now has a large selection of Journals for her very loyal customers!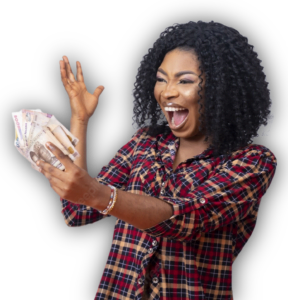 Once again, this is a simplified version of what is possible with selling merchandise. It's a HUGE market for content creators and YouTube knows this. Once you have 10,000 subscribers, they even allow you to incorporate your merchandise store into your channel. But for now, you'll have to share your links to those sites.
5. Sponsorships – Believe it or not, you don't need to be a big shot on YouTube to have sponsors. Sponsors know how to scope out people who have solid followers by the interaction and watch time. So even if you have just a few hundred loyal fans, you can possibly work as an influencer or with a sponsor who will pay you to share about their products. Watch out, now you will start noticing YouTubers who wear certain items or talk about certain products. Chances are, they are being sponsored. This can be life-changing if this happens to you. I watch YouTubers all of a sudden start buying new homes and cars once they get sponsored.  Don't poo-poo it just yet because you don't know much about it. Stay open to new possibilities. Remember, as Senior Tubers we are out here to learn, grow, share and have fun. And that means to allow for new adventures ok?
6. Donations – There are so many ways for people to donate to you. You can have a donate button on your website or blog, you can ask in your video description for viewers to buy you a cup of coffee for your generosity. And now, YouTube has a feature called THANKS, where people who like your videos can tip you if they like it. There is also an option for people to TIP you or THANK YOU if and when you do a live event. It's pretty common. I was on a Tic Tok live event one night and watched a guy ask for donations for a charity and he got $50k in a few hours. YES, 50K. Gamers do this too, so why not you? Will you prepare a nice meal, live and in front of an audience? Don't be surprised if they tip you. And if you do it regularly where more and more people show up, it could turn into paying your entire living expenses and maybe more!
7. Private and Group Coaching – This is pretty self-explanatory. Do you want to work with people privately or in groups to teach them in a more intimate setting? Consider coaching, boot camps or workshops where they can learn faster. And you get to earn much more money! I've been a life and business coach since 2006 and I have to tell you, it's been one of the most rewarding experiences of my life.
8. Memberships – This may be something you do once you acquire a loyal audience who just can't get enough of you and what you have to offer. They may not be able to afford you privately but they can surely afford a membership fee so that they can stay connected to you and continue learning. Remember this for the future and we'll go over it.
I'm going to stop now – are you still alive? If so, please don't worry about remembering all of this. I've been a YouTube Creator for 11 years and failed at it for most of that time. But I never stopped because it's so much fun and there is so much you can do to earn a living and feel like you are doing something really meaningful.
My reason for sharing this information is to stimulate you … stay with me and keep learning … Get yourself a YouTube Channel so as I share, you can play along!
Want to connect with me?
Enjoy!
Enthusiastically,
Fran Asaro
Lover of fun, freedom, and empowerment

Master of nothing when it comes to YouTube – Just a perpetual learner who needs to share what she's learned so that she doesn't explode!

Plus, she wants a community to play with! How about you?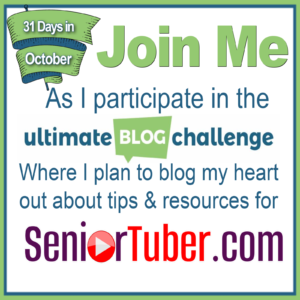 This is day 3 of the Ultimate Blog Challenge – Please support me by reading, sharing, and commenting on my blogs.
If you'd like to join this challenge, I'd love for you to be a part of it, to share yourself, and your business, meet new people and support others. Click here to learn more.