She acts as if everything is ok. And it very well may be. But once she turned 60 something changed, and she can't put her finger on it.
Is it her mortality? Is she finding herself suddenly feeling older even though she still looks and feels the same as she did yesterday?
Is it a feeling of loneliness? Whether she is with a partner or not, has family and friends or not, she feels a personal aloneness and doesn't know what to do about it.
Does she feel like a dinosaur? For some women, they have been the teacher or go-to their entire lives, and now, no one is asking for their advice anymore. 
Or maybe she never got to be known for that thing she wants to be known for because she was busy being wife, or mother or daughter to someone.
Maybe she is retired because it was time, but not because she was done.
Maybe she thought she'd have more money to do more things in life like those around her are doing. She wonders – Is it too late to have enough money?
Is it that she doesn't feel purposeful? Maybe she hasn't done something in a long time that makes her feel truly alive. Whether she can teach, share, entertain or just philosophize about life, she feels like she has no platform for her wisdom and gifts.
To all or any of these women, I hear you. I am you and I hope to be there FOR you.
I recently began helping women create YouTube Channels to express themselves. So recently in fact that I am still working out the details and structure.
Before I go into that,  if you can for a moment, imagine taking what you are good at and sharing it with the world. How would that make you feel?
Do you like to sew, read, cook, bake, travel, play games, sing, dance, teach math? Are you a pro at online dating for seniors or can you repair things around the house?
Do you long to share your life story with someone or do you have a philosophy that you think will make a difference for others?
Have you been through something that others need you for? Are you a widow, have you dealt with illness, loss, addiction, or identity? Do you know what its like to find a lost family member or were you a homeschooler who can now shorten the path for someone else?
I'm here to tell you that someone out there needs you and your wisdom – REALLY!
Even if someone else is already out there talking about your topic, they aren't you, they can't convey things the way you can and some people will only relate to you.
This is why I encourage you to take on this challenge – Get yourself out there as a YouTube Content Creator, with or without becoming a SeniorTuber as I joyfully refer to our community. A community of wise and wonderful women coming out and playing together. (FYI, men and youngsters are invited if they feel they belong here – I won't be checking I.D.)
And don't allow your limiting thinking to stop you, please. We all have them and some will let them take over.
Whether you don't like being in front of the camera, believe that you don't have something to share or aren't tech savvy or creative, it doesn't matter. You can start out by being an observer and there will be plenty of conversations that will address your concerns and maybe even change your mindset. Ok?
As I mentioned before, this adventure/movement is all in the infancy stages.
But here is how it looks so far
I want to provide motivation and support that inspires you to take a leap at something you either thought you didn't want to do but are inspired by or would love to do but never took knew how to take action.
I want to offer a community of women all working towards a common goal – to start and grow a YouTube Channel for a sense of purpose and camaraderie.
I want to offer most of what I do through live events for training and igniting. For Free
I want to show you how to monetize your channel so that you can supplement your income if you'd like to
I want to offer boot camps where we can all work together to support,

brainstorm and laugh with others who are creating their channels – so that we can fail together, succeed together and most of all, have a safe and wonderful place to belong.
How does this make you feel? If stimulated, awesome, if scared but interested also awesome.
On this website, you will find ways to get in touch with me, find my social media platforms, and view more about what you can do.
Find me, and let's play together so you never have to feel alone again.

Enthusiastically and with much love
Fran Asaro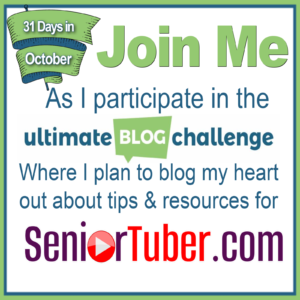 This is day 2 of the Ultimate Blog Challenge – Please support me by reading, sharing, and commenting on my blogs.
If you'd like to join this challenge, I'd love for you to be a part of it, to share yourself, and your business, meet new people and support others. Click here to learn more.