Too old to be a YouTuber? Well, below you will find 5 people who disagree – Another reason I began the Senior Tuber Alliance is that there are many women who feel once they turn 60 they are too old for many things. Some think they are too old to start a business, too old for dating, and too old to have fun. And of course, it's absurd to become a YouTube Creator at this age.  Right? Wrong!
I'm here to share a few of the older YouTube Creators out there. Take a look at what they are doing from comedy to gaming and see if you can't connect with the fun and joy they are having doing what they do. How does it make you feel that someone your age or older is being fully alive and purposeful? Want to feel that too? Well, you can. All on your own if you want … but
If you find yourself inspired and would love a place to learn and grow as a community of senior tubers, well then, connect with us in a few ways.
And now, let's introduce our guest YouTubers: 
(please note that some of these creators have passed, but they were the age I posted while active)
I have a vision that all YouTube Creators will tag their channels with the tag #SeniorTuber so that when we want to view videos of people from our own generation, we can access them.
I hope you enjoyed these creators.
Now, would you like to become one? I hope so.
Have a Frantastic Day!
Fran Asaro
Want to connect with me?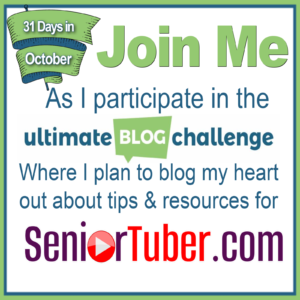 This is day 6 of the Ultimate Blog Challenge – Please support me by reading, sharing, and commenting on my blogs.
If you'd like to join this challenge, I'd love for you to be a part of it, to share yourself, and your business, meet new people and support others. Click here to learn more.